http://www.bardooswaldo.com.br/historia.html
BATIDA DE CÔCO(Coconut Shake)
(to prepare 1,5 l)
Ingredients
500 ml cocoa milk kosher
1 can condensed milk kosher
1 "can" of kosher brazilian cachaça 51
2/3 of the "can" of water

Mix well the ingredientes and keep in the frigo. Is a strong drink, use vodka glasses or coktail glasses.
If you read portuguese you will find amazing to read the history of this recipe at: Bar do Oswaldo-

Condensed Milk Flan - brazilian style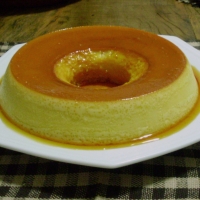 Recipe:
Custard
1 can sweetened condensed milk (not evaporated milk)
1 can regular milk (use the can to measure)
3 eggs
1 teaspoon cornstarch (optional)
Vanilla flavouring (opcional)
Topping
1 cup sugar
1/4 cup water
1) Add 1 inch (2.5 cm) of water in a roasting pan. Place the pan in the oven and preheat to 350F degrees (about 180 C) to boil.
2) In a ring mold (approx. 7.5 in (20 cm) round):
Add 1 cup sugar and place the mold directly over medium heat. Hold the mold with an oven mitt and keep turning it until the sugar melts into a golden brown caramel. Add 1/4 cup water, boil for about five minutes. Let the mold cool.
3) In a blender:
Mix condensed milk, regular milk, corn starch, and eggs. Whip until smooth. Pour this mixture into the mold and place it in the center of the roasting pan with boiling water. Bake the flan for 45 minutes. It will turn golden brown on top and start separating from the sides of the mold. Let it cool to room temperature and place in refrigerator, at least 4 hours or overnight.
Just before serving, warm up the mold on medium heat for a few seconds and run the tip of a knife around the inside of the mold. Place a deep platter over the mold and invert: the flan should slide out easily. Spoon the caramel sauce on top and serve.
Crepes - original fillings
use with brick fuilles
_ red fruits with condensed milk
_ "brigadeiro" - 3 tablespoons unsweetened cocoa,1 tablespoon butter,1 (14 ounce) can sweetened condensed milk - In a medium saucepan over medium heat, combine cocoa, butter and condensed milk. Cook, stirring, until thickened, about 10 minutes. Remove from heat and let rest until cool enough to handle. Form into small balls and eat at once or chill until serving. Or use to fill crepes and cakes.
_ banana, cynamon and cheese- surprising flavour - oven a few minutes
_ Tofutti, mixed with olives